Orthodontics (Traditional Braces) at Bright Smile Dental Coogee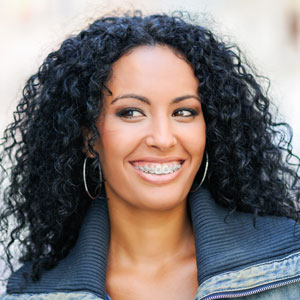 Do you wish you had a straight, confidence-boosting smile? If you have crooked, crowded or misaligned teeth and want to get a beautiful, aligned smile, then we encourage you to consider either Invisalign® clear aligner or traditional braces at our Coogee practice.
What Are They Made Of?
With traditional braces, sturdy metal brackets or teeth colored procelain brackets are used. These brackets are affixed to your teeth using an adhesive; the brackets also hold archwires securely in place. With this type of orthodontics, you will need to come into the practice for periodic tightening. These visits are necessary so steady pressure that comes with the tightening can gradually straighten your teeth over time.
Caring for Your Braces
Your braces represent a significant financial investment. So it's important to take care of them by avoiding eating sticky or hard foods such as nuts, gummy bears, hard candies and popcorn. Keeping your teeth clean is also essential. You will need to lightly brush around the brackets and wires after eating and floss once a day. Using a fluoride rinse daily also can help to keep your teeth clean and healthy.
Book a Complimentary Consultation Today!
Whether your teen needs braces or you wished you had straightened your teeth when you were younger and want to now, we invite you to come in for a no-obligation consultation with one of our dentists. Your dentist will review with you the process of getting braces or Invisalign, the costs involved and how long you will likely need to wear them.
Our Coogee practice accepts all major health funds for your convenience.

Orthodontics at Bright Smile Dental Coogee | (02) 9664 3855