About Us
Dentist Dr Statila Pyke moved from Norway to Australia in 2004. She settled immediately in Coogee, loving the gorgeous, family-orientated, relaxed community feeling with proximity to the beach and an easygoing way of life. Bright Smile Dental Coogee opened in 2010 and is a full-service dental practice that serves many parts of Sydney's eastern suburbs.
Addressing Your Dental Concerns With Ease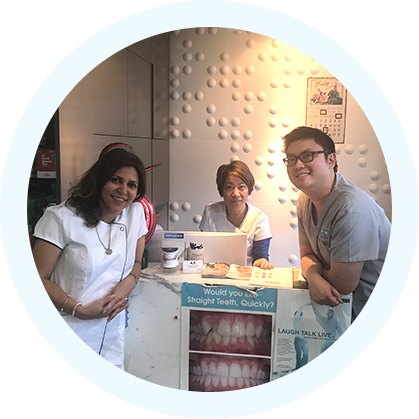 With nearly two decades of experience, Dr Statila has a great deal of expertise in different areas of dentistry. Being a dentist allows her to combine her love of art and medicine while helping people, and she has a talent for dealing with individuals who may feel nervous or apprehensive about dental care. She's travelled around the globe to complete courses and further her knowledge of cosmetic and general dentistry.
Dr Statila is joined in practice by Dentists Dr Andrew Wong and Dr Angie Ginis, along with Dental Nurses Peggy Wong and Victoria Caula (who speaks Spanish). Our professional, caring team is passionate about helping you love your smile!
Serving the Needs of All Ages
Children and adults alike are welcome at our practice, and we see many young professionals who work or live in the area. A range of services are available, including:
Checkups
Dentures
Fillings
Want to Learn More?
Whether you're seeking a simple routine examination or have been wanting to achieve a different look for years, we're here to assist you in reaching your goals.
We're preferred providers with Bupa and NIB. All health funds are accepted at our practice and processed on-site with HICAPS. Schedule your appointment with us today by phone or email!

Bright Smile Dental Coogee | (02) 9664 3855