Custom Mouthguards at
Bright Smile Dental Coogee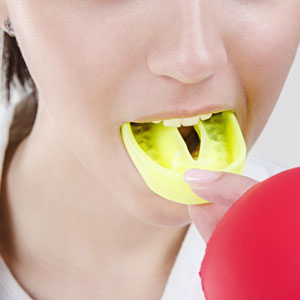 Those who participate in contact sports are prone to damaging their teeth, jaws and gums. Hockey, football, rugby players and more can benefit from a custom-created mouthguard that protects from trauma including teeth that are chipped, cracked or knocked out, cut lips and jaw injury.
What Are Some Benefits?
At Bright Smile Dental Coogee, we offer mouthguards from Fortress that offer many advantages:
Are comfortable, allowing for regular speaking and breathing
Available in different colours
Can be marked with your name and number
Made from tough acrylic and laminate materials
We'll take impressions of your teeth that are used to tailor your device. These impressions are then sent to the laboratory where your mouthguard is created.
Why Not Use a Store-bought Mouthguard?
There are options at most shops including boil and bite or stock mouthguards at chemists and sports stores. A poor fit is common, however, causing discomfort and putting a strain on your breathing. They won't give you the level of protection that a custom mouthguard offers. These devices are even tapered to avoid irritating your gag reflex.
Want to Learn More?
For more information on Fortress Mouthguards, go to www.fortressmouthguards.com.au.
Contact us today to schedule your appointment! We accept all health funds and process your rebate on the spot with HICAPS.

Custom Mouthguards at Bright Smile Dental Coogee | (02) 9664 3855