Laser Dentistry in Coogee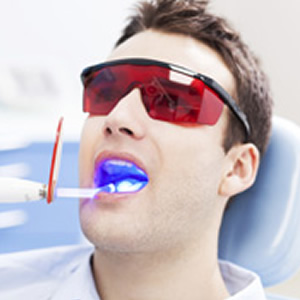 Don't like the sound of dental drills? You're not alone. That's why we're pleased to offer patients a state-of-the-art way to get a variety of dental and facial treatments performed. It's Fotona LightWalker® laser therapy.
Benefits of Laser Dentistry
Greater accuracy and precision
Free of mechanical vibrations
Diminished discomfort and irritation
Quicker healing and recovery
Less bleeding or swelling
Fewer appointments
With laser technology our dentists can treat your teeth and gums in a less invasive, more comfortable manner, making it ideal for those with dental anxiety. Many dental procedures can be performed virtually pain-free and without anaesthesia. That means fewer encounters with needles and no numbness to contend with.
Types of Treatments We Can Perform
An array of dental and facial procedures can be completed with laser therapy:
Children's Fillings
Kids are often nervous about hearing the word "cavity," let alone having one filled. By combining water with laser therapy, we can remove areas of tooth decay without using a drill. This technique is also more comfortable, and it maintains healthy tooth structures. Now our young patients can get smaller, less-invasive fillings than in years past.
Facial and Other
Whether you want to turn back the clock or put your best face forward, we offer numerous facial treatments with a laser. These include gentle peel, collagen rebuild and eye treatment. We also can perform wart removal and spider vein treatment.
Gum Treatment
Laser periodontal treatments specifically target diseased tissues, eliminating them and creating a germ-free environment around the tooth. Treatment encourages the regeneration of natural tissue and reattachment between your gums and teeth. Perhaps best of all, we won't need to use stitches or surgical glue.
Root Canals
Laser treatment can quickly and effectively treat root canal infections because the heat, vibration and pressure from the laser efficiently clean and disinfect the canals from bacteria. The laser beam can reach all the areas of the mouth that conventional mechanical root canal instruments can't get to.
With laser therapy, fewer follow-up visits are needed than with traditional endodontic treatments.
Snoring
Do you wake up feeling exhausted or unrefreshed? Does your sleep partner complain of your snoring? If you answered yes, then consider NightLase® treatment for snoring and sleep apnea. Safe, gentle and noninvasive, NightLase can help improve the quality of your sleep.
According to the company website, the treatment "lessens the effects of sleep apnea and decreases the amplitude of snoring through the use of gentle, superficial Er:YAG laser light." Perhaps best of all, with NightLase, you don't need to wear a device at night.
Please note that NightLase isn't suitable for every person. If you are, however, an ideal candidate for the therapy, you will need 3-4 visits. The treatment also can be used as a great replacement or add-on to your snoring appliance.
Teeth Whitening
If your teeth have become discoloured over the years, leaving you feeling too self-conscious to smile, we offer laser teeth whitening. The light of the laser activates the peroxide that's applied to teeth to achieve a brilliant result.
Ulcers and Cold Sores
Ulcers, or canker sores, are painful lesions that can be found anywhere in the mouth. Eating, drinking and even talking can be uncomfortable when the sores are present. Cold sores, which are blister-like lesions, also can appear around or inside the mouth. Laser therapy can quickly and effectively heal these lesions.
Want to Learn More?
Discover how our modern laser dentistry can help you attain a beautiful, healthy smile painlessly. Contact Bright Smile Dental Coogee today to schedule an appointment!

Laser Dentistry Coogee | (02) 9664 3855